LPG & LNG Distribution
Our LPG Distribution Infrastructure services include:
Engineering and Construction Turnkey projects for Petrochemical, Gas and Chemical installations
Construction of "turn-key" modular design LPG filling stations, complete with overground and underground tanks.
Design and construction of pump and compressor units.
Construction of measurement systems with mass and volumetric flow meters.
Supply and installation of carousel and canister bottle filling lines.
Supply of a full range of road and rail tanker equipment.
Supply of fixtures and valves for in-situ tanks.
Supply of evaporators and fixtures for industrial systems and the construction thereof.
Technical documentation and analyse
Design and supply of LPG equipment and terminals, technological systems for aviation fuels, other liquid gasses and for the chemical industry.
Plant and system servicing
LPG tanker technical support, modernisation and certification.
Complex installations Worldwide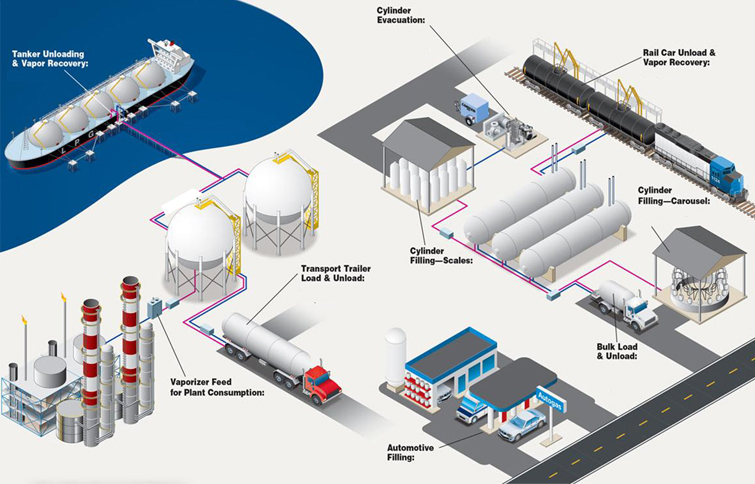 We offer:
LPG filling stations skids with overground and underground tanks
Overground and underground skid LPG filling stations are equipped with:
one or two LPG storage tanks with capacity of 4,85 m ,
different types of one or double nozzle dispensers, depending on investor requirements,
pump units Corken FD/DLD150 or SKC 4.08 with Ex electric motors
valves and accessories of our manufacture and other well recognized
quality brands guarantee reliable long lasting performance

Upon request, our stations may be equipped with additional safety equipment, such as: remote gas level indication, remote - controlled valves, gas sensors, additional automation, etc. We offer assistance and professional installation services at investor's site. We offer also preparation of the required documentation in accordance with existing regulations, initial startup and personnel training.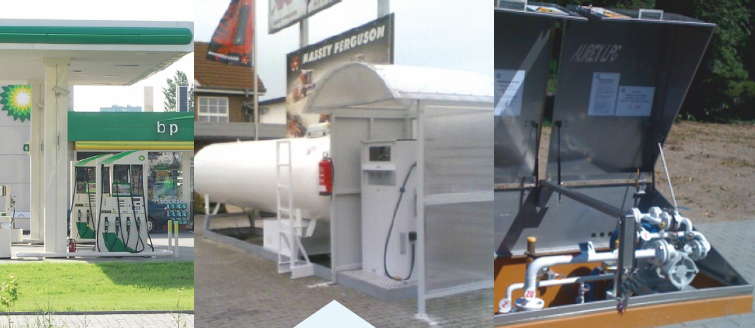 LPG terminals and depots
We offer full range of equipment and design services for construction of turnkey LPG terminals depending on investor requirements.
Our solutions fully comply with the most recent standards for depot design, construction and operation.

Our services include:
development of terminal concept and gas flow diagrams,
technology project design,
technical diagrams and drawings
water, electricity and pneumatics projects development,
sale of full range of equipment needed,
automation and safety projects development,
terminal initial start – up and personnel training,
instruction manuals preparation.

Transfer and measuring equipment for LPG semi-trailers and bobtails

LPG container filling
Plants aircrafts fuel dispensers
Leak detectors and valves sealing machines
Pump units for:
LPG stations
LPG tank trucks
bottling plants
terminals

Compressor units for:
railcars loading and unloading
tank trucks loading
and unloading for bulk LPG transfer

Measuring installations with mass flowmeters for LPG tank trucks

LPG dispensers with mass flowmeters for LPG stations

Hose reels for LPG tank trucks

Folding stairs (option of sliding along the unloading bridge available) for LPG terminals
Vaporizers and packaged vaporizer systems
Ball valves and LPG accessories made of stainless steel